COMPLIANCE WITH ISO/IEC 27001:2013 INFORMATION SECURITY MANAGEMENT SYSTEMS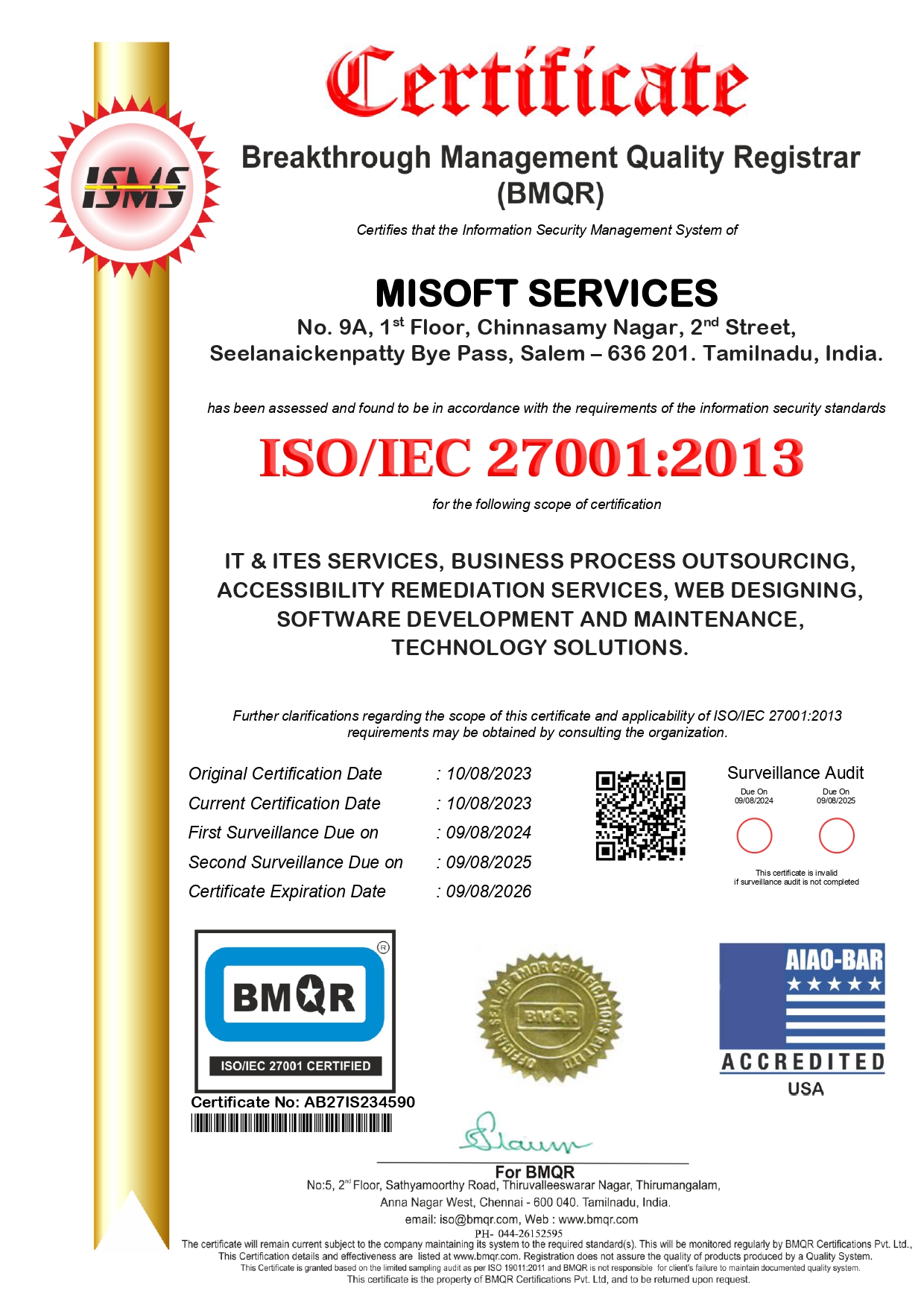 MISOFT SERVICES is an ISO/IEC 27001:2013 certified company strictly complying with the Information Security Management Standards managing risk associated with information security threats, including policies, procedure and staff training for our IT & ITES services including Business Process Outsourcing, Accessibility Remediation Services, Web Designing, Software Development, Software Designing, Computer Programming, Computer Software Upgradation and Maintenance.
MISOFT SERVICES as a technology service provider partnered with many of the clients globally gained the trust of each and every client by strictly following the framework and practice of ISMS ensuring the security of their intellectual property, employee details, financial information, or any other information entrusted on us managing sensitive client information.
INFORMATION AND DATA SECURITY
This data security and confidentiality policy was developed by MiSOFT services to highlight our unwavering commitment to privacy. The information collecting and dissemination procedures of the website, as well as e-mail contact, are detailed below.
IT security, data security, and confidentiality are all important considerations.
MiSOFT's offices and manufacturing facilities are all custom-bonded. Random inspections are carried out to ensure that no guidelines are broken.
POLICY ON DATA SECURITY:
All personnel are bounded by strict non-disclosure and non-compete agreements.
Unauthorized access to MiSOFT's facilities is strictly banned.
On MiSOFT's facilities, enough security staff is present to protect the property.
The document storage space is secure.
Employees' access to their workspace is limited along with time restrictions.
In the systems area, no illegal entry is permitted.
Without prior authorization, no personnel or external devices are allowed into the production floor.
Without prior authorization, removal or changes in system setup is not allowed inside the office premises.
Each employee has his or her password, and access to his or her assigned computer or workstation is similarly limited.
IT SECURITY:
Maintaining IT infrastructure as secure as possible.
Ensure that anti-malware solutions have 100 % coverage and are updated regularly.
Web content filtering systems are enforced and managed, and data leakage attempts are blocked via the internet.
Sophisticated persistent risk management, 24x7 firewall administration, advanced attack detection, Intrusion Prevention Systems (IPS) setup, and customizable reporting.
Detection, analysis, and assessment of risks to avoid sensitive data leakage; deployment of the appropriate DLP solution, whether on the web, through email, or at the endpoint.
Security discipline is enforced so that the appropriate authorities have access to the appropriate resources at the right time for the right purpose.
CONFIDENTIALITY POLICY:
All data and information submitted by a client will be kept secret and will remain the client's exclusive property.
We acknowledge that neither the firm nor its employees will provide any project information to a third party without the prior authorization of a client executive officer.
MiSOFT undertakes that neither the firm nor its employees will replicate or leak any physical or intangible property that might be interpreted as confidential information of the client in any way.
The client will own all raw data, directories, prints, processed data, and the end product.
To ensure comprehensive data protection and confidentiality, we sign non-disclosure agreements (NDA) with our customs brokerage clients during the commencement of our project.
We will erase all raw and processed data once the data has been authorized.
There are no conflicting areas of work since responsibilities are clearly defined.
If you require precise, high-quality, and secure data entry services, please contact us at [email protected]. Within one business day, a member of our client engagement team will contact you.